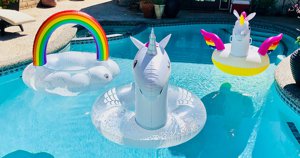 With more than 46 percent of the U.S. population fully vaccinated, it appears that life as we once knew it is returning. Meeting with friends and family for dinner and gatherings is becoming more frequent, and offices all around the country are slowly opening their doors and welcoming employees back to work in person. Although we are making progress, there are still many parts of quarantine life that are still with us. Restrictive international travel is just one of them.
While many sought-after countries by American tourists are starting to open such as Mexico and Netherlands, there are still many countries in Europe and Asia that are closed or restricted to US tourists. Europe is often one of the most popular destinations among American tourists; in fact, according to ETIAS US, each year, approximately 12 million Americans visit countries like France, Italy, and Germany.
But what are we to do while some of the most enchanting cities and countries to visit are still approaching proper conditions to open their borders to American passport holders? Many people in the US have been doing their best to create exciting and innovative "staycations". In fact, one of our Queen Anne clients decided to treat their family to a staycation in West Seattle by the beach. They packed up and rented a beach house on Airbnb with a pool and lived there for a week to enjoy beautiful Alki Beach and its many amenities.
Our team was inspired by this idea and understand the rich opportunities there are for Seattle residents to engage in their own "staycations" with an area featuring such diverse experiences. So, for you and yours, here is a list of the top five Seattle staycation ideas as the world slowly starts opening again.
1. Rent an Airbnb in a Seattle Neighborhood You Have Yet to Explore
There are plenty of beautiful neighborhoods in Seattle with many reasonably priced Airbnbs in good locations. Some of the best areas to explore with options on Airbnb include Ballard, Capitol Hill, Fremont, Belltown, and South Lake Union.
These neighborhoods are great spots because they are all close to the water, and all are uniquely Seattle. Ballard has historic sights to see, Capitol Hill offers some of the more beautiful architecturally significant homes in the northwest, Fremont boasts some of the best parks for an afternoon picnic with views of the city, Belltown is perfectly located by Pike Place Market, and South Lake Union is the ideal summer spot for anyone who would like to boat, swim, or urban sightsee.
2. Reserve a Campsite in a Washington State Park.
One of the reasons so many people end up permanently relocating to Washington state is the proximity to nature and outdoor activities within an hour's drive of the city. Many Washington State Parks have available campsites and make reserving a spot inexpensive and easy. Go to www.Recreation.gov to access a multitude of state parks with an easy reservation system. The campsites make it easy to either car camp, or if you are feeling adventurous, pitch a tent and set up a proper site. Each park offers unique amenities and often features hiking trails and sights for the whole family. Some recommendations for parks close to the city include:
● Lake Sammamish State Park
● Yakima River Canyon
● Denny Creek Campground
● Olallie State Park
3. Book an Urban Nature Home
One urban treehouse in Seattle has garnered a lot of attention from staycationers and tourists alike. On VRBO the "Seattle Urban Tree House" is located just ten minutes from downtown and offers the beautiful, lush nature of the northwest while still being centrally located. Perfect for people wanting a quiet weekend by the pool (yes, there is a pool) or people looking for an ideal location for a night out on the town.
4. Rent a Houseboat
This is one of the best ways to experience life on the water unique to only a few Seattleites. For a weekend or longer, you can experience peaceful life on the water. There are many services that rent these precursors to the tiny home, including Airbnb, VRBO, and private rentals from residents. A perfect location to the University District, Fremont, and Queen Anne. Don't forget that Ivar's Salmon House is just down the way for a relaxing sunset dinner on the water.
5. Rent a Room at the Westin Hotel Seattle
The pinnacle of class in Seattle, this 891 room hotel is the perfect city getaway for a weekend or extended stay. Fully airconditioned, it fills up when the temperature goes up. The Westin features gorgeous views of the Seattle skyline, a fully operational gym, the famous 1900 Bar and Lounge, and they welcome Fido. In addition to the luxurious dining options the hotel provides, there are several restaurants within walking distance. Don't forget about Dimitriou's Jazz Alley!
We hope that this list inspires you to get out and see what the city has to offer. Sometimes we forget about the treasures in our own backyard. We also encourage you to come up with your own staycation ideas and share them with our team. Now, get out there and explore!