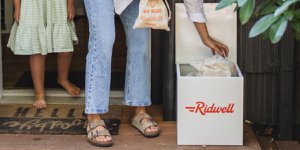 If you are a typical Seattleite, you 1) fiercely recycle, 2) donate or repurpose as many of your used items as possible, and 3) aren't sure what to do with all those Prime envelopes. Enter a 4-year-old Seattle startup called Ridwell! Their mission is to make it simple to get rid of your stuff responsibly.
We have written about recycling in the past, and it can be frustrating as the rules keep changing. Who accepts used pillows? Do old car seats really need to go to landfills? What should I do with burned out lightbulbs? There are many items in our modern lives that don't have great recycling solution. Ridwell, a unique subscription-based program, offers a rotating recycling pickup program that deals with these used items that live in that "complicated to recycle" category.
Started on Queen Anne by Ryan Metzger and his son Owen, the two were simply trying to figure out how to recycle batteries. After making several calls to locate a battery recycling center, the pair thought perhaps other neighbors had the same issue, so they began what they called a "recycling carpool". Things snowballed, and word of mouth fueled the growth of this neighborly endeavor. Recycling carpools became so large that it was clear the pair were onto an innovative solution to a common problem. There was so much demand for help with recycling, that the family turned it into a subscription service company.
To assist with decluttering and keeping things out of landfills, Ridwell offers a rotating category calendar to assist you in planning. There are so many items that don't fit into curbside recycling programs that many items (that could have been recycled) end up in landfills.
Plastic film is picked up with each visit, but what about polystyrene, packing peanuts, old cords, chargers, or electronics? Ridwell heroes come to your home on a rotating schedule, take items away, and deliver them to the proper place for recycling. Polystyrene foam is taken to Styro Recycle in Kent. Prime envelopes? It turns out they can be recycled to make Trex composite decking. Who knew?
Simply sign up (plans begin at $10 per month if you sign up for a full year), log into your account, check the calendar for pickup items, and leave items on your porch in the darling vintage style box the company provides.
One of our team members signed up for the service and has found the user interface and dashboard to be well organized and easy to use. With several software engineers working on the website, it is intuitive, beautiful, and functional. The program has been rolled out in Portland, Denver, and Seattle, and more cities will follow soon.
While Ridwell can't guarantee that each of these categories will be on the pickup rotation, they are eager to hear from their customers and get their feedback. Some of the items they are planning to pick up this year include:
Electronics, Eyeglasses, Bras, Halloween candy, Holiday lights, Kitchenware, Loose diapers, Kid's clothes, Winter/summer wear, Kid's toys, Car seats, Pet toys & supplies, Jewelry, Wine corks, Canned and packaged foods, Formal wear, School and office supplies, Birthday decorations, Tennis balls, Lego blocks, Cords and chargers.
If you are working to declutter your home or simply looking for better recycling opportunities, give www.Ridwell.com a try.