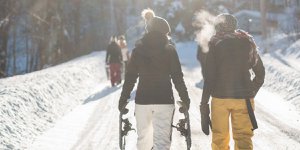 The holiday season is here! The kids will soon be out of Zoom school and most of us will have some time to relax, rest, and in some small way, celebrate the season. As I write this, one COVID-19 vaccine has been released and others are on the horizon. The Centers for Disease Control and Prevention (CDC) is cautioning against most in-person gatherings, but that doesn't mean we can't find other creative, fun, and safe ways to celebrate.
We asked our clients and team members to share their favorite unique, fun, and safe ways to enjoy the season this year. Some ideas we expected, but others were so darn creative that we can't wait to share them with you! I hope you find an activity on this list for everyone.
1. WildLanterns – Woodland Park Zoo
New this year, a stunning outdoor lantern festival at the Zoo is unlike anything we have seen. WildLanterns, presented by Sound Credit Union, offers a larger-than-life, immersive experience perfect for all ages. Tickets are $28.95 for adults, $23.95 for children, and admission is free for those 2 and younger. There is a limit on how many people can be in the Zoo at the same time, so visitors may purchase tickets for a specific entrance time. Masks are required, so this is the perfect occasion for that animal-print mask you have been saving. Visit WildLanterns here.
2. Rick Steve's Europe
More than 1 million armchair travelers have subscribed to Rick Steve's YouTube channel, and for very good reason. The best-selling travel author and host of public television's "Rick Steves' Europe" has posted over 1800 videos to his channel, all streaming now. If your travel plans were put on hold or if you would like to investigate some new spots for future travel, spend some time this month learning from this Northwest travel guru. Visit Rick's YouTube Channel here.
3. A Christmas Carol – ACT Theater Virtual Event
It wouldn't be Christmas without this Seattle Holiday Tradition. With a 45 year run, the ACT was very creative this year and brought the magic of Charles Dickens' classic ghost story to life in an all-new radio-style audio play. Put on your favorite pajamas and pop some corn, then listen anytime you like and as often as you like until December 27. "Tickets" are available here. In the spirit of the times, the ACT is offering tickets at a "what feels right" price. You are also able to purchase this radio show as the perfect gift for those missing live theater this year.
4. Canlis Community College
2020 has been especially hard on restaurants. Queen Anne's beloved Canlis has pivoted beautifully offering drive-thru burgers, a crab shack, a yurt experience, and our favorite, Canlis Community College. Canlis designed and executed a six-week "semester" of programming that featured cooking classes, wine tasting classes, and some fun sections about Seattle history and culture. Our favorites were the bread baking and jam making classes! Find them at Canlis Community College
5. Write a COVID-19 Journal
This has been a year like no other, and we have heard some incredible stories of resilience and grit. If you have been asked by friends and family to write your pandemic experiences down, you may feel like saying, "It's just not that interesting". But yes, your stories are interesting. And they will be even more interesting to future generations. Write about first hearing that a worldwide pandemic had been declared. Where were you? How did you feel? What did you do? How did school, work, or volunteer activities change? How did life change? You have a compelling story and a unique perspective. Write it down.
6. Candy Cane Lane
A team member has fond Seattle memories of her parents packing the car with kids, giving each a candy cane, then driving through "Candy Cane Lane" to look at the beautifully decorated houses. A Seattle institution since 1949, Candy Cane Lane is located in the Ravenna neighborhood at N.E. Park Road. A loop of just 23 homes, all the neighbors participate and go over the top with decorations, lights, and music. Since you don't need to get out of your car, this is a great activity to do with your Bubble crew. Betcha can't drive through just once!
7. Join the SIFF
Have you watched all the things on Netflix, Hulu, Amazon, PBS, and Disney? SIFF (Seattle International Film Festival) has gone virtual with indie films and from all around the world. They offer gift memberships for those hard to buy for friends. Running right now, the SIFF is featuring French Cinema Now, featuring nine recently-released French language films, hand-picked by SIFF staff. Vive la France!
8. Secret Santa with Elfster
Secret Santa gift exchanges are fun, but sometimes difficult to organize when we can't be together. One of our team members gathered a group of people, all ages, and gave Elfster.com the names and an email address for each participant. Then, the elves took care of the rest. Players receive an email inviting them to join in the Secret Santa exchange. The elves generate the game pairing up the people in your group and set the parameters (which are set by the organizer, like price, date, etc.). Good old fashioned fun shipped right to your door!
9. Worship Services
Houses of worship are almost entirely online now in the Seattle area. While you may have your own place of worship, this is also a great opportunity to attend a virtual service and learn about another church or another faith. Whether you respect Hinduism, Buddhism, Islam, Confucianism, Christianity, Taoism, or Judaism, there is an online service for you to enjoy and learn from.
10. Play in the Snow
There is nothing quite as wintery as a walk in the snow. It is sometimes hard to imagine that just an hour away from Seattle is a winter wonderland for skiing, snowboarding, sledding, cross country skiing, and snowshoeing. If you don't have the right gear, rentals are available at Summit East Nordic Center, off I-90 at Exit 54. Be sure to check the road conditions first!