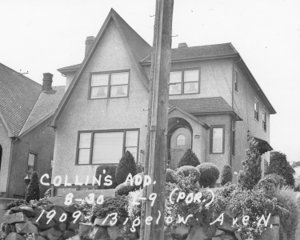 The beautiful Tudor style home on Seattle's coveted Bigelow Avenue North was built in 1926. Thanks to well-kept records, we are able to learn about the original owners and what life was like in Seattle and specifically Queen Anne Hill, nearly 100 years ago.
The original owners of this home were Walter Ainsworth Sykes and his wife Lottie Zeta Comeau Sykes. Walter and Lottie both grew up in Canada, Walter in a family that identified as "British", and Lottie in a "French" family. They met in Canada sometime in 1918 while Walter worked as an osteopath and Lottie as a nurse. They were married in Vancouver BC on March 5th, 1919.
Walter loved working in healthcare. Ambitious and intelligent, he was accepted to the North Pacific College, a private post-secondary medical school located in Portland, Oregon that educated pharmacy, dental, and optometry students. Lottie took a position in Portland as a Dental Nurse, supporting the couple while Walter was in school. Upon graduation in 1923, Walter and Lottie moved to Seattle to set up their dental practice. Seattle was a growing city, and the demand for dentists and other healthcare professionals was high. The UW Dental School would not open until 1945, so practicing in Seattle, where demand for dentists was high, was a wise decision.
Walter and Lottie set up the practice in Seattle's beautiful Cobb Building, an early example of a high-rise medical office center. This historic building located at 4th and University is still standing and enjoys status on the National Historic Registry. The famous Howells & Stokes architectural firm designed this magnificent building.
The dental practice was so successful that by 1926 the Sykes couple was able to purchase the brand new home at 1909 Bigelow Avenue North. Lottie continued to assist Walter while raising two daughters, June Elizabeth and Patricia, with the help of their live-in servant Edna Newbanks. The girls attended elementary school on Queen Anne and graduated from Queen Anne High School: Go Grizzlies! Healthcare was a family affair, and young June would follow in her mother's footsteps by attending the University of Washington School of Nursing, graduating in the class of 1944.
At the time this house was built, U.S. Census records indicate that homes in the neighborhood were purchased by hardworking men and women from Canada, Germany, Czechoslovakia, Sweden, as well as many Midwesterners looking for new opportunities. Occupations along the boulevard included a painter, a bookkeeper, a sausage maker, a restaurant owner, a radio store owner, a machinist, a boat captain, and many neighbors list their occupation as "fishermen".
Young June met and married James Farrell sometime after graduating from the UW, then moved to Ellensburg. The couple had one son, Patrick Farrell, who like his grandfather, grew up to become a dentist. Walter and Lottie Sykes lived in this house for over 30 years before retiring and moving to Ellensburg to be closer to family.
While we can't promise whiter teeth and "no cavities", we can promise that this beautiful home is ready and waiting for the next owners to thrive on one of Seattle's most beloved streets.