There is something very special about a vintage home. If these walls could talk, this lovely 1906 Dutch Colonial would tell the story of the Mantor family and the beginnings of the Seattle Fire Department.
On October 17, 1889, four months after a devastating fire burned most of Seattle to the ground, the Seattle Fire Department became an official institution. The Great Seattle Fire broke out in Victor Clairmont's cabinet shop at the corner of Front Street (1st Avenue) and Madison on June 6th, 1889. A small group of volunteer firefighters worked tirelessly to put the fire out, but the town's small private water supply quickly ran out. By the end of the day, 64 acres of homes and businesses were gone. Gardner Kellogg had been a volunteer firefighter since 1870 and was named Seattle's first fire chief.
Two years later, George Martin Mantor (1872-1954) would travel to Seattle with his brother Fred, and his British born mother from Baraboo, Wisconsin. George joined the Seattle Fire Department, the first step in his long career. His first place of residence in the city was a boarding house at 334 2nd Ave N (the site is now Chihuly Glass Gardens, part of Seattle Center).
Shortly after George arrived in Seattle, he met and married Caroline "Carrie" Adams Crosby.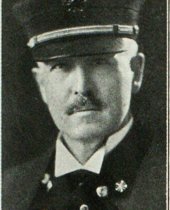 They had a son (their only child), George "Crosby" Mantor, who grew up to be a commercial photographer in Seattle. We don't know very much about Carrie, but as was the convention in the early 1900s, she would have worked keeping a proper home and raising young Crosby. Of note, the census rosters list neighborhood occupations as a blacksmith, a builder, a painter, a telephone operator, and a chiropractor.
George was a born leader and rose through the ranks in the Seattle fire department, graduating from a ladder company to captain before 1910 at the age of 38. After serving in World War I at the age of 47, he returned home and was appointed chief of the Seattle Fire Department.
We believe the Mantor family lived in this beautiful home for over 40 years. 506 West Galer is waiting for the next owner. How will they continue the Seattle story?