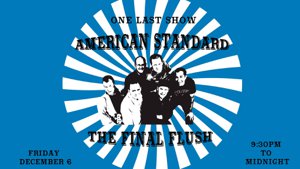 It all started with a school auction, one song, and a creative spark. This year, our band, American Standard, is celebrating our 12th year. Those of you who read my blog and my newsletters know that being in this band is an important part of my life. It has offered me fellowship with some great men, musicianship, as well as the opportunity and permission to be creative. I love all types of music, and I have enjoyed singing my entire life. But rocking in a cover band is something else entirely. American Standard will be taking a one-year hiatus due to work and travel schedules. We will be doing one last show on December 6th at Serendipity Lounge in Magnolia at 3222 W McGraw Street in Seattle. The show starts at 9:30 and promises to be quite a performance! We started from very humble beginnings. Read on to learn more.
Our First Song
In 2007, the St. Anne School auction theme was "007". A group of very creative men got tired of the moms at our school having all the fun, so four guys got together to plan the annual auction event. A group of us dads had been kicking around the idea of playing music together for years, so we felt it was the year and the perfect opportunity. After a few weird jam sessions, in which instruments were rotated around and we made it through "Wild Thing" a few times, we settled on parts. The band came to have two guitar players, a bass player, a piano player, a lead singer (or two or three), and a drummer. It took forever to come up with a name, and then one day while staring at a porcelain toilet we decided: American Standard! We play classic British and American rock, and the name sounded catchy.
We went to work learning to play "Secret Agent Man" (the Johnny Rivers version) for a school assembly to promote auction attendance. And we worked hard. We all have different memories of the first morning we played together, but it was thrilling. We sounded pretty good, we were well-rehearsed, and we were tight. The crowd went wild! Our wives, who were all watching with our kids, went wild! And then we were asked to play another song. But here's the thing: we didn't have another song. So, we played "Secret Agent Man" again. And the crowd went wild--again. We were on to something. We went back to the band room in my basement and started learning new songs. When the auction rolled around in May, we were a hit, the guys' auction theme worked, and we continued playing rock and roll on Thursday nights.
Fast forward 12 years: Now we know over 100 songs, have recorded an album of cover tunes, and have about 50 gigs under our belt—mostly non-profit events for a cause one of us believes in. When asked why we do it, the answer is simple: we do it for friendship, for creativity, and for our wives. In fact, it should be noted that all our band members are still married to their first wives. I'm sure a therapist would have fun figuring that one out, but it is safe to say that our band has a combined total of about 252 years of marriage. And so, we keep rocking and playing to our wives, lovingly known as the "Band-Aids". Our kids are in their early 20s now, and sometimes we rock with them, too! We thank all our families and friends for their support. We 'll see you all in Magnolia on December 6th!