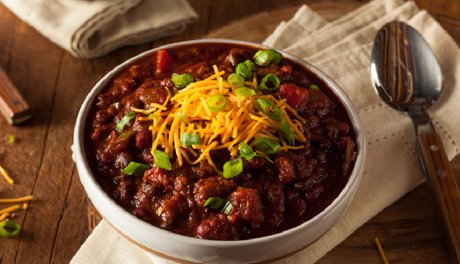 We call this "Halloween Chili" because beginning in 2009, one of our team members began making gallons of this tasty dish on Halloween night for whoever might want to come in out of the cold (and often Seattle rain) for a hot bowl of traditional chili. It is reported that there were rarely leftovers. The recipe is for one batch that fits in a large crockpot.
Ingredients
· 2 pounds ground beef or ground turkey*
· 2 (15 oz.) cans tomato sauce (Glen Muir Organic if available)
· 4 (15 or 16 oz.) cans pinto beans, drained and rinsed
· 1 (15.5 oz.) can petite diced tomatoes (add everything in the can)
· 1 sweet onion diced
· 1 green pepper diced
· 1 red pepper diced
· 1 diced jalapeño pepper (wear gloves to chop)
· 2 cloves minced garlic (or 1 teaspoon garlic powder)
· 5 tablespoons chili powder
· 1 tablespoon chipotle chili powder (it adds a nice smoky flavor)
· 4 tablespoon dark unsweetened cocoa powder
· 2 tablespoons Mexican oregano
· 2 tablespoons honey
· 1 teaspoon cumin
· 1 tablespoon salt (or more to taste)
· 1 teaspoon black pepper
· 1 teaspoon cayenne pepper (or more to taste)
· 1 teaspoon allspice
· 1 tablespoon Worcestershire sauce
· 2 bay leaves
Directions
1) In a large pan, saute the onion and peppers until soft and translucent. Add the garlic and jalapeno near the end so these do not scorch. Remove and set aside.
2) Cook ground beef or turkey over medium-high heat until browned, stirring frequently. Drain the excess fat.
3) Place chili powder and cumin in the pan and heat until aromatic; toasted, but not burned. This gets rid of that "raw spice" flavor.
4) Add all ingredients and stir to combine. Bring to a simmer, then reduce heat to low, cover, and simmer for about 2 hours, stirring every 10 to 15 minutes.
5) Alternatively, put everything in a crockpot and let it go on low for 8 hours. Season to taste before serving.
6) Serve warm with additional toppings such as shredded cheese, chopped green onions, sour cream, and cilantro. Cornbread and a salad make it a meal.
What you don't eat will refrigerate well for about 3 days and freeze beautifully for up to 6 months.
*If making this a vegetarian dish, substitute 3 cups sautéed vegetables (such as mushrooms, zucchini, an extra red pepper, sweet potatoes, and corn) for the meat. I usually made an extra vegetarian batch for gatherings.