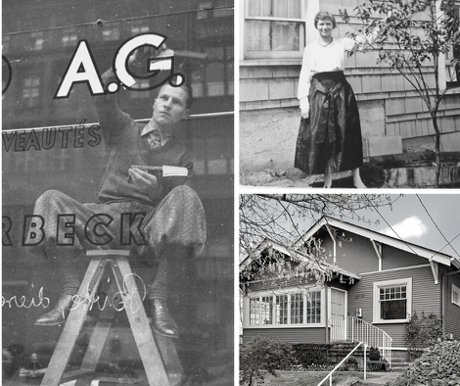 Queen Anne homes from a century ago are full of architectural charm, character, and a great deal of history. Walking through the Nils Nilsson Home today, one can clearly see the craftsman appeal it radiated as a new home in 1914 (update: sold). But who were the original owners? Where did they come from? And what brought them to Seattle?
Thanks to accurately-kept records, we can piece together the story of Nils Nilsson (1878-1968) and Martha Luise Svensson Nilsson (1891-1947), who came to America from Sweden in search of opportunities and a better life. Like many today, they sought their fortunes on Queen Anne Hill.
Mr. Nilsson emigrated from Sweden in 1898 at the age of 20. We know that he was a skilled sign and window painter, and easily found work in the bustling city of Seattle. Since his native tongue was Swedish, and many of his countrymen were opening local businesses, his skills were in high demand. Nearly every business hired sign painters to attract new customers with distinctive lettering and images, whether on painted billboards or shop windows. Sign painting was a lucrative trade for those who had artistic skills. Most attended trade schools and then worked as an apprentice for years before taking union jobs that involved the dangerous world of ropes, ladders, and scaffolding. We know that Mr. Nilsson worked for the Seattle Sign Shop, which was located at 711 Olive Street near downtown. He most likely spent his time painting windows and small signs for local businesses.
After arriving in Seattle, Nilsson lived in a boarding house at 1515 Boren Avenue with about 30 newcomers from a mix of Scandinavian countries, including Denmark and Norway. We believe he lived at this address for the better part of a decade, working and saving before his bride and new mother-in-law arrived in 1913. Mrs. Nilsson's mother was Annette Svenssen, a 60-year-old widow. We aren't sure how the couple met; they could have been family friends from the Old Country, or perhaps participants in an arranged marriage, a custom that was common at the time. It is also possible that Nils simply sent for Martha, a young woman with a widowed mother who had nowhere else to go.
Many Scandinavian immigrants paid cash for their new homes in Seattle, and Nils was no exception. He and Martha purchased their home at 2916 3rd Avenue North on Queen Anne Hill shortly after they married, directly from the builder. The couple took ownership in 1914, and the charming craftsman became home for the growing family, with two boys and a girl. Grandmother Annette also lived with them for 15 years, before the family of six moved to a home on acreage in Bothell, Washington.
This wonderful craftsman is waiting for the next owner to continue the Seattle story and pursue their own dreams and opportunities. Will it be you?